PTSansan.co.id – You may be wondering, why do medical workers wear uniforms that are so simple in terms of designs and color? Well, apparently, that's the global rule. Because instead of focusing on the appearance, medical scrubs or uniforms for healthcare professionals should focus more on certain features and fabric technology to ensure comfort and safety. After all, their primary job is not to show off their look. So, what are those required features? Here are some insights on the most effective features for state-of-the-art medical scrubs and nursing uniforms.
First of all, medical scrubs must represent purity and sanitation. That's why nowadays, it is common to find nursing uniforms with waterproof and dustproof features. This technology is expected to provide its users with maximum protection from exposure to viruses and other infectious diseases, including the current one, Covid-19.
One of the most recent innovations in the textile industries, which is specifically designed for medical personnel, is Fluorocarbon Free technology, which is an improved waterproofing ability for fabric. With Fluorocarbon Free, doctors and nurses will be protected from various skin cancers and other skin diseases
Most hospital settings can be easily identified with the color of white, and so are the scrubs. White is particularly chosen to make it easy for patients to identify medical workers and to make each and every stain on it visible. Not only that, the white color also symbolizes purity, that's why healthcare professionals should be equipped with anything white.
1 Cotton Fabric
Nursing uniforms usually use waterproof cotton, which is a type of cotton fabric that has a strong waterproof layer. Apparently, this particular cotton fabric can also be found in medical masks.
Waterproof cotton is highly preferred for users who have sensitive skin because the natural fibers in it can prevent irritation. In addition, this fabric can also keep the body temperature warm, even during winter. With its anti-moisture properties, cotton is also known to be hypoallergenic, which means it can resist the growth of bacteria.
2 Rayon Fabric
In addition to cotton, rayon is also commonly used in the production of medical uniforms, with Waterproof TR (Tetoron Rayon) as the most popular one. Just like cotton, TR also has waterproof properties because it has synthetic or natural fibers as a result of regenerating cellulose.
3 Polyester
Polyester fabrics can also be used as medical uniforms. But remember, the most preferred one is waterproof polyester, which has been laminated or coated with waterproof features in the form of a balloon, so as to resist water.
In addition to these common three  fabrics, American Drill is also often used by medical responders, especially in the surgery room. It's specifically designed to make it easy for health workers to move around and work during surgery.
So, those are the criteria you must pay attention to. Speaking of medical scrub, should you be looking for vendors to produce nursing uniforms with all the criteria above, please don't hesitate to contact us at PT Sansan Saudaratex Jaya.
PT Sansan Saudaratex Jaya has been trusted at the international market in handling job orders, makloon, or CMT for all textile processing in our facilities.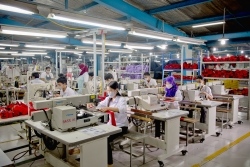 Our company has grown rapidly and currently has more than 5000 employees in 4 factory locations. Therefore, we are able to produce various types of garments, with various models, including types of clothing for men, women, children, and babies, with a total capacity of up to 2,550 pcs/month.
Our company has also complied with all compliance regulations or approvals, as well as the United Nations-approved Code of Ethics for the implementation of Human Rights. In addition, our products are now globally distributed with high quality export quality.
Feel free to consult your needs and contact us via the following link to make your order or acquire further information.