PTSansan.co.id – As time goes by, we have witnessed a rapid development in corporate and work culture. One of the changes that is clearly apparent is regarding work apparels. Now, to be considered professional, one no longer has to wear the so-called traditional corporate attributes. The difference between formal and casual style is also getting less and less visible. Therefore, now, if you have a plan to make and design a corporate uniform, you can explore and be as creative as possible. Here, we have some references for the best workwear outfits and ideas.
Casual, Non-Formal Workwear
Many companies now allow casual workwear styles. This style seems suitable for startup companies within the media and creative industries with aspiring young employees. In this case, a specially designed company t-shirt, sweater, or polo shirt will give the employees a more relaxed and pleasant feel during work. However, keep in mind that this set of apparels is still worn for work. So, avoid pairing casual workwear with torn jeans, yoga pants, or even flip-flops. It is much better to combine them with jeans, blouses, modest footwear, and suitable accessories.
Workwear Recommendation:
Personalised t-shirt, sweater, or polo shirt
This one is probably the most common workwear style in many offices and companies. This particular style is less rigid, yet still looks professional. The best workwear outfits within this range of style include personalised shirts or tops. In addition, because it does not require the use of a complete suit, you can express your own style by combining a top shirt with khakis or trousers. For women, it can be combined with a blouse, cardigan, and skirt. Just make sure that the footwear is covered and the accessories you wear are simple, but still attractive.
Workwear Recommendation:
Personalised shirt or top
A workwear outfit can be considered more formal if the use of suits or collared shirts is recommended as a part of corporate obligations. The principal rule is that the more you deal with a client's money, the more traditional and conservative you should dress. However, nowadays, the dividing line between business casual and formal casual is very thin, so you need to be more aware of the corporate environment. However, that does not mean that the  formal style you choose cannot look trendy or modern.
Workwear Recommendation:
Personalised shirt or blazer suit
Formal, Traditional Workwear
If you are comparing workwear styles from the most casual to the most formal ones, then formal, traditional workwear outfits will be at the extreme end of the formal category. Typical formal wear will include a suit, dress with a blazer, trousers or skirt with a blazer, closed footwear, and simple accessories, such as earrings for women and ties and cufflinks for men. In this case, you should choose neutral colors, such as black, brown, dark blue and gray.
Workwear Recommendation:
Fitted suits, long shirts, and blazers
Those are some of the best workwear outfits that you can choose as corporate uniforms. Well, for those of you who are looking for a uniform manufacturer, we at PT. Sansan Saudaratex Jaya Textile Division accept job orders, makloon, or CMT for all work processes in our facilities (ranging from sizing, weaving, reactive dyeing, continuous vat dyeing to pigment dyeing). So, do consult with us regarding your demands and contact us on the Contact page for reservations and further information.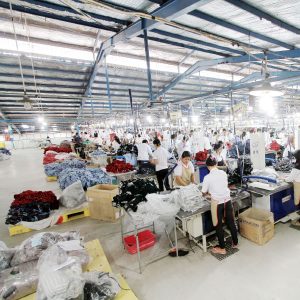 Source: