PTSansan.co.id – In our previous writing, we have explained the history of how the first uniform was created and distributed until it's finally used everywhere. Well, in addition to its ever-changing uses, office wear has also evolved a lot in terms of design and silhouettes, especially in the last 100 years. Curious as to how it's changed throughout these years? Let's explore on a journey of how office wear has evolved from time to time.
In the early 20th century, office wear was blatantly formal. Women generally wore long dresses or skirts, while men wore full suits. The colors chosen also tended to be neutral and less colorful. Although there were times when these suits would be mixed up with a more cheerful haircut, the style pretty much looked conservative and completely covered, even in the summer.
Entering the 1960s, office wear underwent a significant development. Leaving conservative style at the front door of the long gone roaring twenties, workwear in this era had become more minimalist, with slim silhouettes and more diverse colors. Pastel colors dominated the trend of women's work clothes, while thin ties with striped motifs dominated men's professional attire in the 60s.
In the 1970s, skirts as a primary women's dress code slowly shifted to pants with loose models. Two reasons were behind this trend. The first one was due to the feminist movement, but the other and the most common one was because pants were generally more comfortable to use than skirts. For men, styles had not changed that much, suits were still commonly used, but with wider collars and wider ties.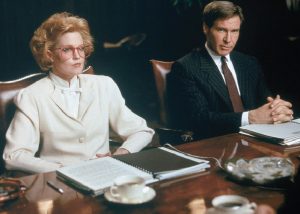 The 1980s saw women's workwear drastically adopt men's dress code, with a large blazer and trousers. The men didn't want to be left behind either as they began to adopt some new, more relaxed trends, such as power suits featuring suspenders, striped motifs, and the addition of softer shoulder pads on blazers.
1990s to Early 2000s: Business Casual
Entering the new millennium, 'business casual' style was gaining popularity, with turtlenecks and khakis being the main elements of this trend. The 'business casual' dress for women also began to flourish throughout the 90s. The rapid growth of this 'business casual' trend was quite perplexing for the HR at that time.
As per now, office wear can be generally classified into two main styles. Formal suits are still very commonly used in the financial sector and high-end businesses, such as banks, law firms, and others. On the other hand, in other industries, such as the creative industry or startups, workers tend to adopt a rather casual style of workwear, while still maintaining a professional look.
So, among the various workwear trends in the last 100 years, which office wear trend is your favourite? No need to worry, with the production capacity of Dyeing Finishing PT. Sansan Saudaratex Jaya Textile Division which reaches up to 2,000,000 meters/month, we accept any Job Order/Makloon/CMT for Sizing, RFD/PFD, Dyeing, and Finishing processes for all types of woven fabrics, including workwear or work uniforms.
The specialty of our products is uniform fabrics (Cotton, TC/TR) which require color stability in large quantities and have high washing resistance (using the Vat Dyeing method). For more info, please contact us by clicking this page for reservations and further information.
Source: Insider, Victorboss