PTSansan.co.id – Are you looking for a high quality uniform manufacturer based in the area of Bandung and Cimahi, Indonesia? Then PT. Sansan Saudaratex Jaya Textile Division is the answer to your particular demand. As a form of collaboration with our customers, we now do CMT (cut, make, and trim), job orders, or makloon for all textile processing in our factory facilities (from sizing, weaving, reactive dyeing, continuous vat dyeing, to pigment dyeing). Why should you choose to partner with us? Here are some of the reasons.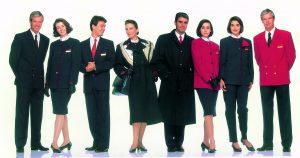 Sansan Saudaratex Jaya Textile Division ensures uniforms and clothing with exceptional quality that are not only satisfactory but also meet national and international standards. We are able to meet these demands through a series of prime manufacturing, for example Continuous Vat Dyeing, Reactive Dyeing, and Pigment Dyeing. All of our finished goods have also met international standard quality based on AATCC, ISO and Oeko-Tex. In order to test the quality of our products, Our products are thoroughly tested by in-house laboratories as well as credible independent laboratories, such as INTERTEK Utama Service (ITS), MTL and ITT. 
Sansan Saudaratex Jaya is also widely trusted at the national and international market for the manufacturing of uniforms and clothing. Part of this is due to the quality of our products which consistently meet the strict quality standards of international buyers. Thanks to that, our products are now able to enter the export market, expanding to various countries, including the United States, Europe, England, Australia, Japan, Turkey, Thailand, Malaysia, the Emirates, and South Africa. We also supply our products to well-known brands, namely Cardinals, Lea, Logo, Quiksilver, Mothercare, and many more.
Supported by Modern Facilities
The CMT or makloon service at PT. Sansan Saudaratex Jaya is carried out systematically. With the support of modern continuous processing machines, relevant textile know-how technology, and qualified human resources, we can answer to both international and national standard requirements. In addition to numerous private companies, our company has been continuously supplying fabrics for government agencies, such as Police Department (POLRI), The National Army (TNI), Social Department, and many more. We use our VAT dyeing process to satisfy government agencies' high quality requirements.
Wide Range of Product Choices
The range of CMT or makloon service that we can do is also very broad. Our specialty is the manufacture of office uniforms, school uniforms, airline uniforms, military uniforms, health uniforms, agency uniforms, and any kinds of uniforms. Apart from that, we also do t-shirts, daily apparels, chinos, shoes, hats, tote bags, and various baby items. The types of fabrics available in our factory are also very diverse and can be tailored to your needs, ranging from cotton, polyester, drill, twill, tropical, oxford, cotton oxford, and many more.
Commitment to Environmental Sustainability
As a sustainable uniform manufacturer, PT. Sansan Saudaratex Jaya is also committed to upholding environmentally friendly values. Therefore, we ensure that every drop of water that comes out of our wastewater treatment plant goes through a recycling process, so that it can be reused to maintain the availability of water sources. We also use coal as our energy source, and we ensure to control and manage coal waste in a systematic manner that complies with government regulations.
Guarantee of Satisfactory Service
With the high quality standards and a range of modern facilities that we provide, you don't have to worry about the cost and price. The price we offer is guaranteed competitive when compared to any other uniform manufacturer. In addition, we also ensure that the product delivery is always on time. As we make continuous improvements in all aspects, we will continue to maintain a good relationship with you as our customer as well.
Those are some of the reasons why you should choose to partner with us at PT. Sansan Saudaratex Jaya Textile Division, one of the pioneers in Indonesian uniform manufacturer. So, what does your company precisely need in a uniform? Feel free to consult it with us. Our production capacity can reach up to 3,000,000 meters/month to meet your various needs. Kindly contact us on the Contact page for reservations and further information.