pt.sansan – Looking for a particular workwear design that can suit your company's needs? PT. Sansan Saudaratex Jaya has the answers. We have been trusted by various companies at the national and global market in terms of producing workwear and corporate uniforms. In addition to quality assurance, we also meet the demands of our partners in terms of design and color precision. Here are some examples of the best workwear design that can be tailored to your company's needs.
Workwear Suit
Uniforms like this, as commonly used by ASN (Civil Servants), is a common request that PT. Sansan Saudaratex Jaya receives. This workwear design is very suitable for companies that prioritize humbleness and modesty in their operational activities. No need to worry about the quality of the materials used because we provide various types of woven fabrics, from cotton, T/C/, T/R, to CVC.
Formal Workwear
We also have experience in manufacturing formal corporate wear. An example that we've produced is a set of bank uniforms which oozes formality and trustworthiness. Aside from quality, bank uniforms also require color precision and durability. That's why our specialty is Continuous Vat Dyeing, Reactive, Disperse and Pigment Dyeing processes with internationally recognized quality standards.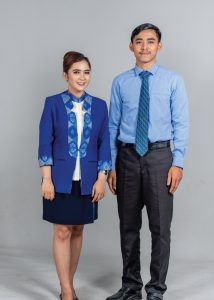 Casual Workwear
The next design is casual workwear, the use of plain shirts combined with chino pants. This workwear design is very suitable for startup companies full of young people as it can promote flexibility and modern values. Whether it's the uniform or the chino pants that your company needs, both can be manufactured at PT. Sansan Saudaratex Jaya with international standards and competitive prices to meet your needs.
Quick-Service Workwear
The quick-service industry is very dependent on who serves the customers and how they look. That is why the uniforms they wear may be the key to customer satisfaction in this type of industry. You can choose a simple design like the one above as a sign of politeness and friendliness. To distinguish the models of men's and women's work clothes, additional embroidery accents can be applied to make them look harmonious. We produce uniforms, chinos and other fashion applications with recognized international quality standards.
Those are some examples of uniform designs that you can choose from. So, in order to produce workwear in large quantities with international quality, please don't hesitate to entrust your needs to PT. Sansan Saudaratex Jaya. The production capacity of our machines can reach 3,000,000 meters/month so that it will be able to meet your various needs. Feel free to contact us on the Contact page for uniform sewing makloon services and further orders.