ptsansan.co.id – There are many kinds of fabric materials for making uniforms, either for office look or to wear in the field sectors. One of the most frequent fabric used is the Japan Drill. Thus, what is Japan Drill? What are the advantages of applying Japan Drill for uniforms?
Japan Drill is known for its high strength and fiber. Therefore, this fabric is not easy to tear when it is exposed to tension. It is considered very suitable to be used as a uniform.  
Japan Drill is actually made of a mixture of cotton and polyester. It mostly becomes the target of manufacturers to fulfill the market demands. It means, that cloth is quite loved by market.
5 Advantages of Japan Drill Fabric as Material for Uniform
1. High in fiber
Japan Drill is made from a blend of natural cotton and synthetic fibers, namely polyester. So that the combination of these two fibers makes that cloth strong and not easy to find. What is characteristic of this fabric is the shape of the fiber that has been spun in the form of diagonal lines so that it can be distinguished from other types of fabric.
2. Durable
Next, Japan Drill is durable and strong. The spinning with the technique of making diagonal fibers makes this fabric stronger. Therefore, that cloth has  various of thickness. Starting from the medium to the heavy category, which make sure that this fabric is not easily fragile when washed using the machine repeatedly.
The thickness of Japan Drill is somehow useful for making field uniforms which is mostly used outside the room or office.
3. Stay comfortable and cool
Even though it is fairly thick,  that fabric is still comfortable to wear and  it is able to absorb the sweat, so that the air circulation is quite good and it does not make it stuffy. This fabric also feels cold when it touches the skin. But this is back again on the components of the constituent materials.
4. Color varies
Has a variety of colors, so you do not need to worry. You might choose any colors you like to make uniforms by applying that cloth. The colors are not limited to brown or blue only, but it also has  monochrome and pastel colors, depending on your taste.
5. Japan Drill Not easy to blemish
If the fabric tends to be difficult to manage, especially when it is ironed, Japan Drill is  vice versa. It does not wrinkle easily after washing. The appearance of this fabric is always even and neat, thus proving that this fabric does not require special care.
Those are 5 advantages of Japan Drill cloth that you can consider before dealing with convection parties. If you need this fabric as a material for uniforms, PT Sansan Saudaratex Jaya can help to meet the material needs for making uniforms.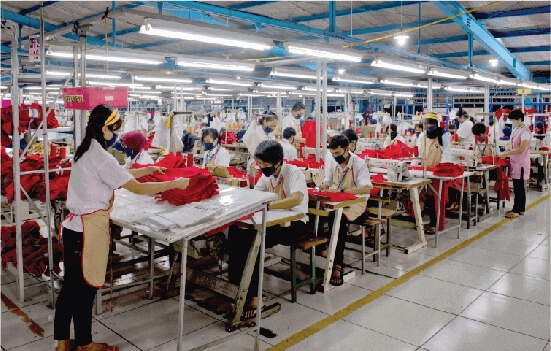 With a large production capacity, we are able to produce fabric as much as 2,000,000 meters / month. We accept orders in the form of job orders/makloon to CMT for the sizing process; RFD/PFD, Dyeing, even finishing for all types of woven fabrics.
We also have a production certificate that meets national and international standards and has been trusted as a partner of several well-known local brands.
Please consult for your current needs, or you can contact us via this link for orders and further information.